This is Harshini. J and S. Akshaya. We are the team members of the Project Smart Lavatory. We had participated in the ATL Marathon 2019-20 and we got shortlisted as top 150 teams (42nd AIR). We are glad to share that we got shortlisted as top 30 girl teams for the She Codes Innovation Program conducted by AIM (Atal Innovation Mission), Dell Technologies, and LLF (Learning Links Foundation).
We received a mail from Dell Technologies which confirmed that our project had passed the Patentability Check and they also informed us that the features of our project were novel and that we could go on with the Patenting process.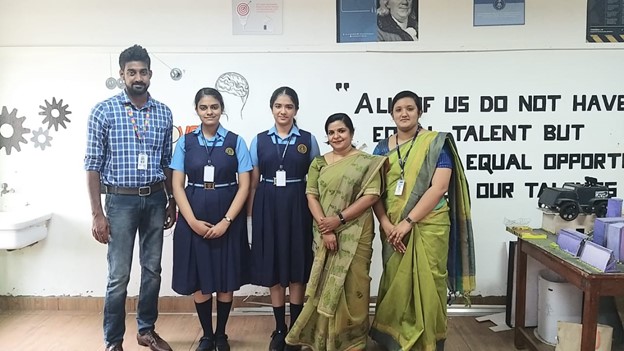 To understand the problems faced by the students, various Student Council meetings were held. From the problems discussed we analyses the severity of the situation that the students are not comfortable in using the toilet due to the unhygienic conditions and bad odor. Some students rightly pointed out that electricity is also being wasted as the lights are not being switched off after use. And hence we came up with the idea of Smart Lavatory. When a person enters the toilet, an Ultrasonic sensor will detect the movement of the person and turns on the light automatically. Then, once the person uses the toilet an IR sensor detects the movement of the flush button and opens the door automatically. Without flushing, the toilet door will not open. If the user gets stuck, then he/she can press on the emergency button placed inside the toilet to trigger the alarm in the office room and avail help. Further on, the helper can press on another button placed outside the toilet, to open the door. Other components used are Arduino UNO which acts as a microcontroller and voltage regulators.
The journey of Smart Lavatory was a wonderful and memorable journey. Our team got shortlisted as top 150 teams in the ATL Marathon and we also got shortlisted as top 30 girl teams in She Codes Innovation Program. From this it was declared that our project was compatible for getting patent due to its novel features. We are getting support from our school and the She Codes Team for building a product. We will be implementing our product in our school and then the public toilets. We would like to thank our Principal, Vice-principal, ATL in-charge teacher and LLF Mentors for guiding us and being supportive throughout the journey. We would also like to extend our sincere gratitude to Atal Innovation Mission and Dell Technologies for providing us with this wonderful opportunity.
Harshini. J and S. Akshaya
BHAVAN'S VIDYA MANDIR
ERNAKULAM, KERALA