I, Mrs. Pradnya Chikodikar, am working as a science teacher in Dnyanganga English Medium School since last ten years. Apart from teaching science for secondary students I also guide to ATL students in their projects. I have attended training session for teachers conducted by AIM, NITI Aayog at Jhana Prabodhini School, Nigdi, Pune. I have been a part of training session along with students in our school wherein we learnt about Designing, Ideation, Electronics etc. I have actively participated in project competition 'INNOVISION' organized by D.E.M.S.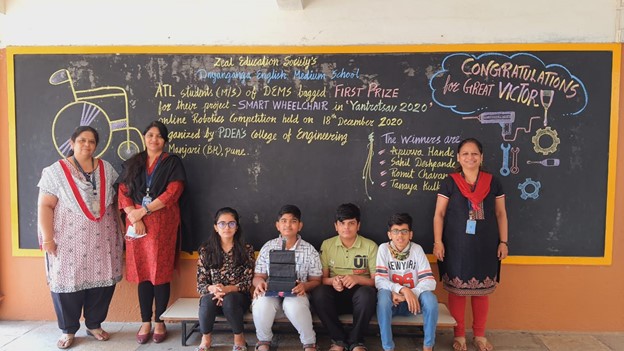 This year students of D.E.M.S. participated in an online robotics competition 'YANTROTSAV 2020' and bagged first prize. It was organized by PEDA'S college of Engineering, Manjari (Bk), Pune.
Wheelchair is one of the most used assistive devices to promote mobility and enhance quality of life for people who have difficulties in walking. Students' idea of making working model of SMART WHEELCHAIR was appreciated. Students used ultrasonic sensor, smoke sensor in their model and movements of wheelchair were operated through Bluetooth. I guided students in proper presentation of project and making of PowerPoint and charts. In the actual competition judges were impressed with the way students explained working of their model and we won the competition.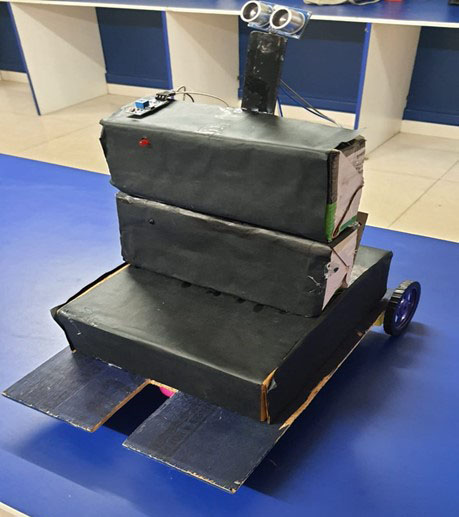 Although it was an online competition student showed good team spirit, dedication towards work and followed the instructions of teachers. Thus, it was an amazing experience for all of us as teachers and we really felt proud of our students.
Mrs. Pradnya Manish Chikodikar
DNYANGANGA ENGLISH MEDIUM SCHOOL
PUNE, MAHARASHTRA