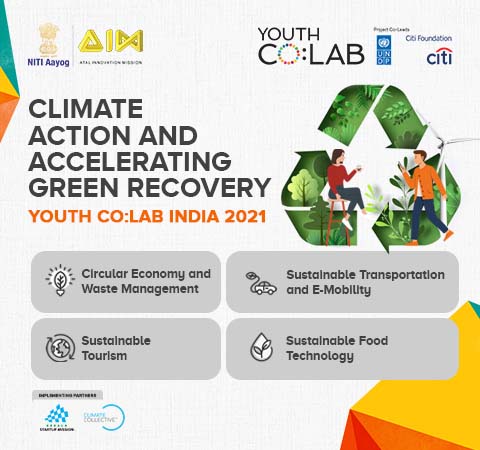 Calling youth-led startups working in the following themes to apply!
Circular Economy and Waste Management
The linear economy over the years has led to the rising issue of waste mismanagement in India. To drive a holistic approach in solving waste management, innovation is the key to creating a circular economy. A circular economy model is a systemic approach to economic development designed to benefit each stakeholder in contrast to the 'take-make-waste' linear model. Such solutions are regenerative by design and aim to gradually decouple growth from the consumption of finite resources. Do you have an innovative model that can make our consumption more circular & help better manage the waste?

Sustainable Transportation
With the rising adoption of automobiles post the Covid-19 outbreak, sustainable transportation is the rising demand that caters to the mobility connectivity of the society across rural and urban areas. Considering the pillars of sustainability – economic efficiency, social equity and environmental responsibility – is your solution capable of eradicating conventional transportation to drive sustainability?
Sustainable Tourism
India's Travel & Tourism Industry is the 7th largest in the world that accounts for 9.6% of the GDP contribution. The Covid-19 outbreak has adversely impacted the tourism industry and increased the demand for sustainable tourism. As per UNWTO, "Sustainable Tourism means taking full account of its current and future economic, social and environmental impacts, addressing the needs of visitors, the industry, the environment, and host communities". Are you the solution for the rising demand for sustainable tourism in India?
Sustainable Food Technology
Synthetic fertilizers, chemical pesticides and high-yield cereal hybrids promised to reduce hunger, provide for the growing populations and stimulate economic growth. But decades of industrial farming have taken a heavy toll on the environment and raised some serious concerns about the future of food production. Do you have an idea on sustainable food technology that ensures wellbeing of people and animals, community health, ecological health?
Read more about circular economy and waste management here:
https://sites.ellenmacarthurfoundation.org/india 
https://pib.gov.in/PressReleasePage.aspx?PRID=1705772  
Read more about sustainable transportation here: 
https://transportgeography.org/contents/chapter4/transportation-sustainability-decarbonization/
Read more about sustainable tourism here: 
https://www.yesbank.in/pdf/sustainable_tourism_in_india_initiatives_and_opportunities.pdf 
Read more about sustainable food technology here:
https://economictimes.indiatimes.com/news/economy/agriculture/less-than-four-percent-indian-farmers-adopted-sustainable-agricultural-practices-says-study/articleshow/82165017.cms 
https://www.oecd.org/agriculture/topics/climate-change-and-food-systems/ 
www.forbes.com/sites/sap/2021/06/07/how-technology-can-help-restore-food-and-agriculture-production/?sh=2296f9606a33/a>