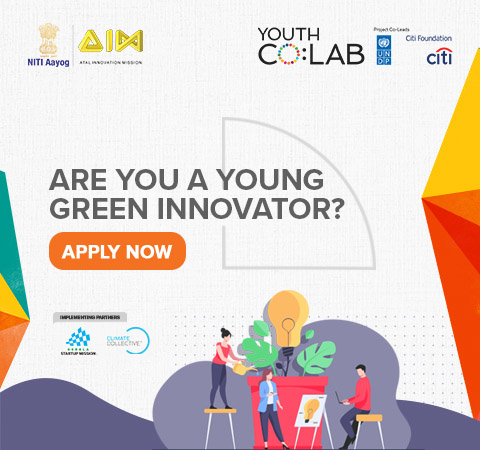 Youth Co:Lab, co-created in 2017 by UNDP Asia and the Pacific and Citi Foundation is a multi-dimensional and multi-level response to tackle the challenges young people face by positioning youth front and center to find solutions to today's most pressing problems. Youth Co:Lab aims to establish a common agenda for Asia-Pacific countries to invest in and empower youth to accelerate the implementation of the SDGs through leadership, social innovation and entrepreneurship.
Read more about Youth Co:Lab here
UNDP India and Atal Innovation Mission, NITI Aayog have joined hands to strengthen the youth-led innovation and social entrepreneurship ecosystem through Youth Co:Lab India. The fourth edition of Youth Co:Lab India will focus on identifying and supporting youth climate and green entrepreneurs. Youth Co:Lab 2021 seeks to invite youth-led early stage social enterprises or innovations working in the space of circular economy and waste management, sustainable transportation and e-mobility, sustainable tourism and sustainable food tech.
Apply Now

Circular Economy and Waste management

Sustainable Transportation
and E-Mobility

Sustainable tourism

Sustainable Food Technology
Click here to know more about the themes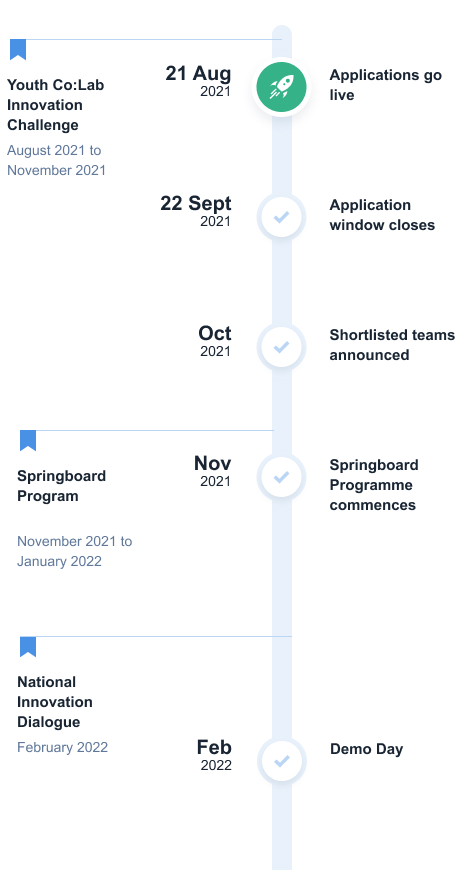 We are looking for passionate founders with solutions that solve real problems and/or create meaningful co-innovation opportunities, and we expect applications that exhibit :


Innovative teams led by youth aged between 18 to 29, with business, technical, and other necessary skills.


Have a prototype or product centred on the above mentioned themes.


Ideas/solutions that are viable and scalable will be preferred. Having said that, we are definitely not averse to exploring possibilities with ideation stage startups or aspiring entrepreneurs with a rockstar team and conviction to make an impact.


The startup/team should be less than 5 years old, i.e. the founding team formation / startup incorporation should be post August 2016.


We encourage teams led by young women, LGBTI, persons with disability to apply.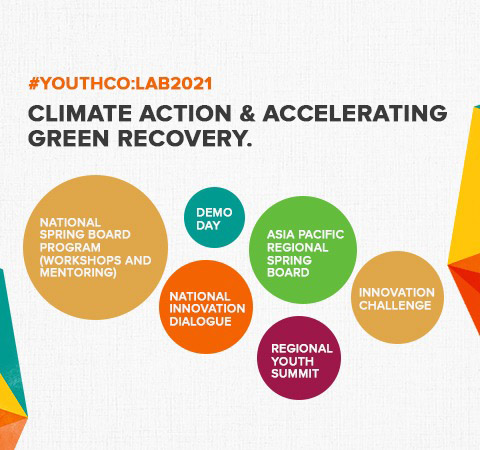 Shortlisted teams undergo a National Springboard Programme implemented by Climate Collective, Kerala Startup Mission (KSUM), UNDP and AIM which will equip them with entrepreneurial skills and opportunity to connect with mentors, incubators, investors and government.
Opportunity to incubate and strengthen their ideas/solution/product at the AIM Incubators
Opportunity to do a POC with our partners in Multi Stakeholder Alliance and a chance to sign a commercial contract and/or attract strategic investment
Opportunity to get selected for the Asia-Pacific Regional Springboard Programme
Opportunity to represent India at the Asia-Pacific Regional Summit (Top 2 teams)
Conditional access to KSUM labs & infrastructure, incubation space, partner networks and other resources for selected teams
Support through the startup journey by being a part of Climate Collective community
Read what prominent startups/teams from Youth Co:Lab India previous editions had to say: Testimonials
We believe in providing the best experience for all stakeholders. However, if you are facing any issues we recommend you go through our FAQs
Still have a question? Feel free to contact us:
Email : youthcolabindia@gmail.com
Climateaction@startupmission.in